Our Approach
Needs Analysis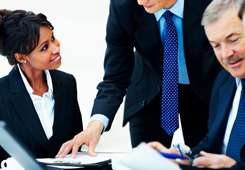 Aries has a creative team of professionals from diverse fields of expertise that specialize in creating overall solutions for knowledge and information management. Aries provides an extensive analysis of your current training program and then plans an organized method to develop and implement a fully functioning e-learning training portal with curriculum specific to your operational needs. Aries will analyze your existing infrastructure and assess the various e-learning needs of your organization to determine how e-learning programs can benefit your existing education model.
Strategic Planning and Visioning
Strategic planning consists of procedures used to define your direction on the path to e-learning. Aries helps with every step of the strategic planning process by establishing and reaching the goals set within your e-learning project implementation process. A shared strategic vision is developed and then an action plan is produced. The action plan outlines the management structure, steps, roles, responsibilities, and time-line necessary to complete the project successfully.
Creating, sharing and validating knowledge are fundamental processes if your organization is to keep up with a fast-paced economy. Team building workshops along with periodic meetings assure quality e-learning programs. All of the team members and all levels of the organization must be informed about the progress and changes in direction as the project proceeds. The communication plan ensures that all participants stay aware and involved.
Aries maps out improvement for the following areas:
Determine knowledge management needs
Identifying knowledge sources and paths
Improve knowledge processes
Creates an intranet that enhances knowledge sharing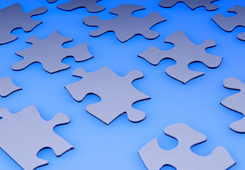 Implementation
Aries, not only designs and plans how you will integrate e-learning into your institution, but also provides the services to successfully implement these plans into your organization. Aries implementation services enable organizations to develop and implement instructionally sound education strategies that will increase organizational satisfaction and information retention. Critical success factors include choosing the optimal combination of video, audio, text, and face-to-face interaction. Aries provides organization and technology implementation services to help achieve this.
Operational Support
With Aries operational support services, organizations receive comprehensive support at every stage of your e-learning implementation: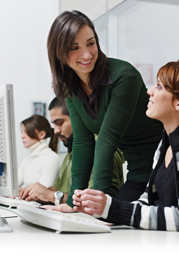 Technical Support: Our technical staff will be available to help your teachers through the integration and, if needed, will provide day-to-day support in the development of your e-learning program.
Technology Integration: This time is focused on the design, building and implementing the necessary e-learning infrastructure and system training.
Instructional Services: Instructor and curriculum evaluation help you to determine your E-learning needs. The integration method following this process ensures your teachers make a smooth transition from traditional learning methods to exciting technology-based curriculum.
Instructional Design Support: Training and ongoing support services designed by E-learning experts to help instructors create engaging, instructionally sound E-learning courses.
Course Development: Course development offers advanced technology support and multimedia production to create rich, interactive e-learning courses.
Marketing and Evaluation
Even the best e-learning project can fail if it isn't supported by an effective marketing plan. Whether the intent is to encourage internal promotion or external awareness, a plan must be designed to not only make potential learners aware of the program but also to motivate them to use it.
Aries evaluation services help an organization measure their return on investment, organization effectiveness and overall impact of the e-learning course on a continual basis while providing guidelines for continual expansion and improvement. With extensive feedback from your program's evaluation processes, Aries is able to work with you to provide guidelines to help expand and improve your technology infrastructure, curriculum content, instructional quality, and overall satisfaction.