Case Studies
Aries provides consultation and services for organizations of many backgrounds and geographies. Below you will find use cases for companies that Aries has partnered with to develop online based solutions for. If you're interested in joining our growing list of partners contact us today to see if Aries is a great fit for your organization!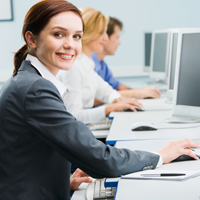 Project: Live WebEx Training Sessions and Content Hosting
Tele'Train specializes in consulting, training, and activities for optimizing customer communications for businesses who operate call or contact centers. Tele'Train provided pre-existing flash based training content around workforce traffic management, forecasting, and contact center management which Aries interfaced within a customized version of the Aries Universal Learning E-vironment (ULE). Tele'Train offers these classes via optional WebEx integration which allows live interaction and feedback over the Internet between Instructors and Participants.