Early Learning
BroadLEARN™ Early Learning offers teachers and parents the opportunity to provide learning experiences for young children in developing language and mathematical skills.
The BroadLEARN™ world is home to Lindy Loo and Jesse and their pets, Peppy and Rocco. The four characters guide the students through the 300 + learning activities to ensure their success.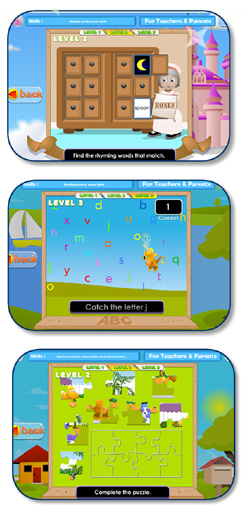 The BroadLEARN™ three-dimensional world provides:
Nine interactive staged story books
Nine karaoke songs with English text
Sixty-three interactive staged learning activities
Forty-five treasure chest reward activities
Twenty-two multi-lingual translation activities
Twenty-seven staged assessment activities
Ninety classroom activity sheets
Teacher Manual and online parent guide
The Early Learning Classroom:
The software has been designed to accentuate the potential of ICT in the Early Learning classroom by allowing teachers to use computers as collaborative learning tools. The innovative and flexible design of BroadLEARN™ enables teachers to use the digital resource with the whole class, small groups or individual children. The activities have been optimized for use on an Interactive White Board.
Assessment and Reporting:
A key feature of the BroadLEARN™ Early Learning program is the built in assessment activities and tools. The assessment activities report on the prescribed learning outcomes of the program and provide detailed reports of student progress.
Home School Access:
The BroadLEARN™ Early Learning program has been designed to link teachers, parents and students. The online access allows parents and children to learn together, while providing assessment feedback to parents and teachers.
International School House:
Children can enter the International School House where they can engage in a range of language learning activities including Spanish, Chinese and Japanese. These translation activities provide a valuable resource for English-speaking children learning a new language or young children learning English.